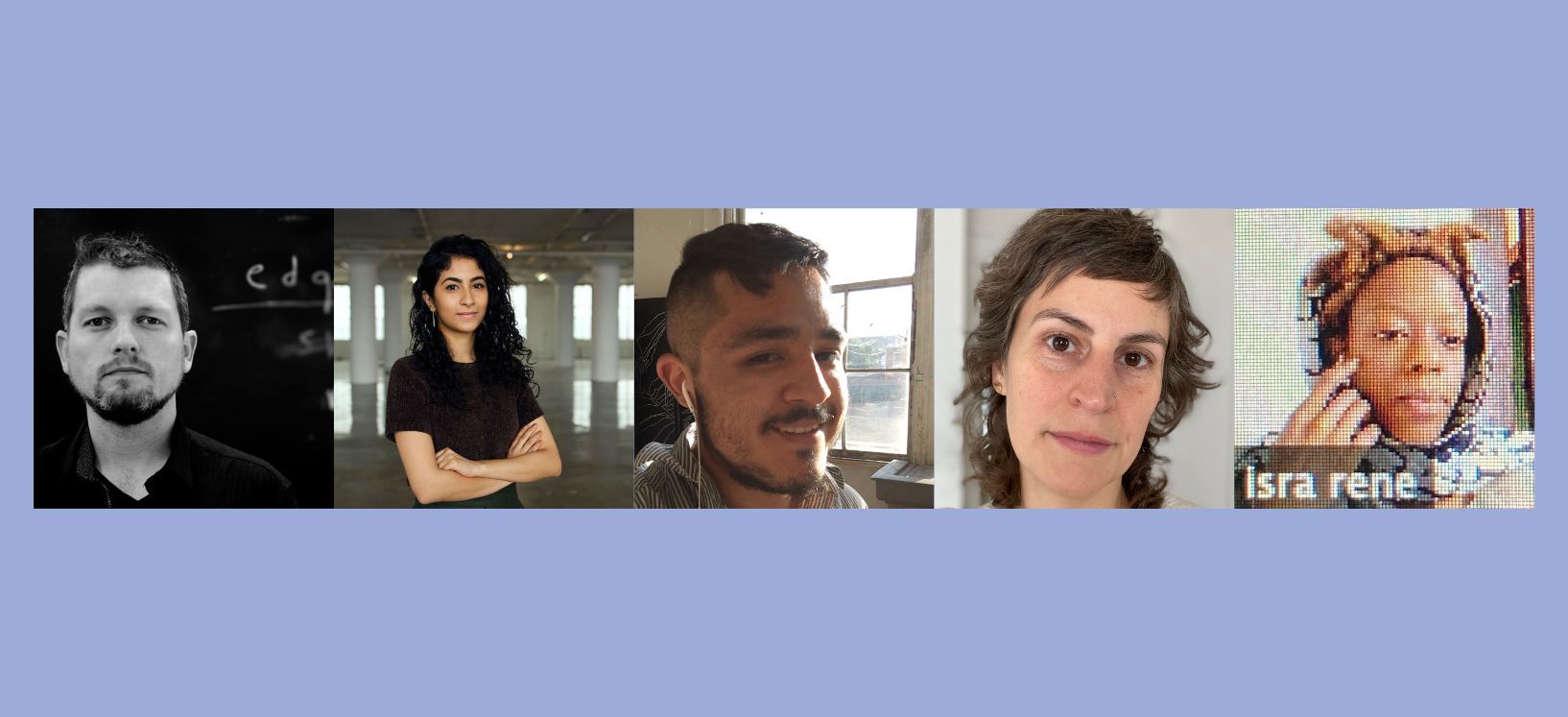 2023 Ignite Fund Jury
Matt Bodett, Chicago, IL
Matt Bodett lives and works in Chicago as an artist and mad/disability advocate. Drawing from lived experience he utilizes artwork to explore and critique visual culture and its role in stigma. Having gone to school in Boise, Idaho Bodett moved to Chicago in 2013 to have a more serious studio practice. Since then, he has exhibited art, performance, and poetic works at cultural institutions like Steppenwolf theater and The Poetry Foundation in Chicago, The Freud Museum in London, and for the No Limits festival in Berlin. Aside from a full-time studio practice, Bodett has also opened "PRESS HERE: Center for Mad Culture" in Chicago, which explores the cultural and aesthetic possibilities of madness. He teaches for Loyola University Chicago and Columbia College Chicago, while also serving on the advisory board for the Institute for Therapy through the Arts, on the Artists Counsel for 3Arts.
Sarah Dhobhany, New York City, NY
Sarah Dhobhany is a New York-based artists administrator and the Artist Programs Associate at the Joan Mitchell Foundation. She held positions in communications, fundraising, and public programming at arts organizations in Chicago and New York City including The Shed (New York), Mana Contemporary (Jersey City, Chicago, Miami), and Chicago Artists Coalition (Chicago). With a passion for career development, she works towards being an accessible resource for emerging and practicing artists within her communities. Sarah holds a bachelor's degree in Art History and Museum Professionals and an associate's degree in Advertising and Marketing Communications from SUNY Fashion Institute of Technology. In 2019, she was awarded the Arts & Culture Leaders of Color fellowship with Americans for the Arts, a one-year professional development experience for emerging and mid-career arts leaders of color across arts disciplines (sponsored by Joyce Foundation and American Express Foundation).
Carlos Flores, Chicago, IL
Carlos Flores is an installation artist, radical community arts organizer, curator, and flower farmer based in Archer Heights. His work has received recognition from 3Arts, United States Artists, The Luminarts Cultural Foundation, and the Andy Warhol Foundation. Past exhibitions include the Hyde Park Art Center, Heaven Gallery, Mana Contemporary, and the National Museum of Mexican Art. Flores's visual and organizing practice draws from his experiences growing up as a queer Latinx immigrant on the Southwest Side of Chicago. His work brings viewers face to face with issues of environmental racism, displacement and race by creating space for connection, generation, and care to take place.
Jori Ketten, Providence, RI
As Program Manager of the Interlace Grant Fund, a regranting program of The Andy Warhol Foundation for the Visual Arts, Jori Ketten supports Providence, RI visual artists in pursuit of unconventional collaborations. She also collaborates with Interlace colleagues to provide artists with assistance ranging from emergency grant funding to proposal writing support to professional development workshops. In addition to her work at Interlace, Jori facilitates visual art workshops for teens at New Urban Arts and collectively organizes a large brass/punk dance band (she plays bass drum in the band). She is also a parent. Previously, as Associate Director of Academic Engagement at the Swearer Center at Brown University from 2015–2020, Jori worked with students, faculty, and community members to connect academic study and community need through the Engaged Scholars Program. From 2017–2022 she also facilitated the MusicWorks Network and related programming, a national network of social justice community music education programs supported by the Mellon Foundation in collaboration with Community MusicWorks. She is currently working on a publication documenting this experience. Over the last twenty years, Jori has collaborated extensively with local Providence and national organizations as an educator, project director, curator, and documentarian, including AS220, Community MusicWorks, The Harvard School of Public Health, Liz Lerman Dance Exchange, New Urban Arts, The Point CDC, Providence Community Libraries, and the RISD Museum. From 2010-2022, Jori also facilitated regular arts programming and current events at two storefront spaces in Providence's West End (186 Carpenter from 2010-2017 and 159 Sutton from 2017-2022).
Isra Rene, Chicago, IL
I. Isra Rene was born in 1992 and is from Capitol Heights, Maryland. II. They are a Chicago based writer and thinker whose work circles the intangible, the unnamable, and the absent. In their bricolage practice, variability is welcomed in material and function to reflect alongside the changing tides of Black identity performance and aesthetics. III. Their written word has been featured in publications like "Sixty Inches from Center", "Ruckus Journal" , and "Undermain Magazine". IIII. Other sweet collaborative projects can be found in Detroit, MI, Columbus, OH and Atlanta, GA.