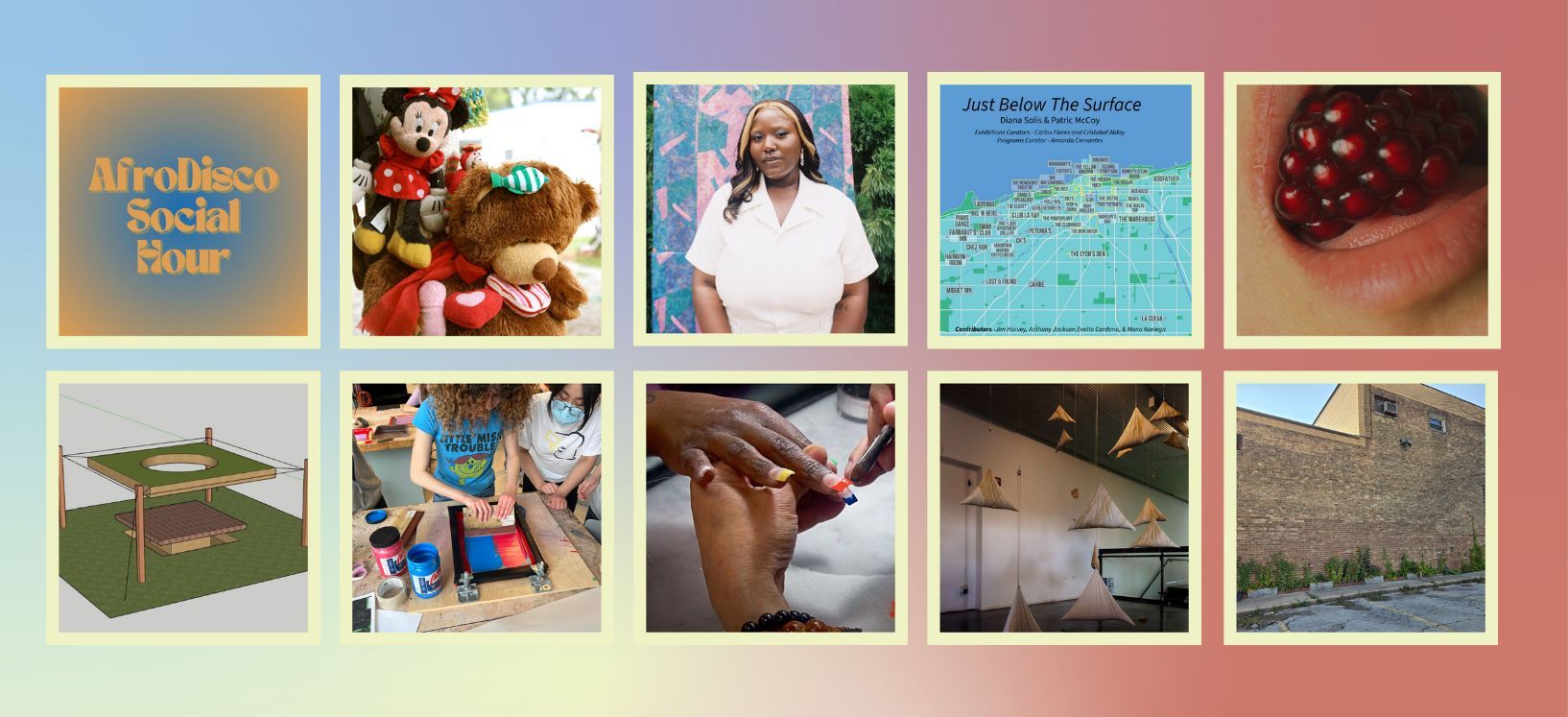 The Ignite Fund Announces 2023 Cohort of Artist Grantees
$60,000 of project support for Chicago-area artists
CHICAGO, IL (October 11, 2023)— The Ignite Fund, supporting the creation and public presentation of new visual arts-based projects by Chicago-area artists and artist-led collectives, has announced its 2023 cohort of grantees. Nine artists and three artist-led collectives are receiving a combined total of $60,000 toward Project Grants of $3,000 to $6,000 to support the creation and implementation of new, public-facing works; and Research & Development Grants of $1,500 that support the early stages of new projects in development.
Open to artists in Chicago's six-county metropolitan area, the Ignite Fund received 74 applications that were reviewed by a national jury panel. The jury's selections align with the Ignite Fund's goal of prioritizing projects that center the visual arts, promote collaboration, raise awareness around social justice issues, engage local communities, and incorporate accessibility services in public presentations. We send our gratitude to our team of independent contractors, Marcia Festen and Kerri Malone, who stewarded the Ignite Fund application review and jury panel process, as well as to this year's jury panel: Matt Bodet, Sarah Dhobhany, Carlos Flores, Jori Ketten, and Isra Rene. Complete descriptions of this year's grantee cohort and jury panel are available on the Ignite Fund website: www.ignitefund.org.
The Ignite Fund is administered by Chicago-based nonprofit organization 3Arts as part of The Andy Warhol Foundation for the Visual Arts Foundation's Regional Regranting Program.
The 2023 the Ignite Fund grantees and projects are:
Project Grants
Keyierra Collins (she/her), How I Found My Feet Again | $5,250 How I Found My Feet Again is a ritualistic activation for self-care, self-alignment, and peace. The piece is an exploration of Collins's self as a dancer and performing artist through the lens of her mental health practice. She will utilize video, projection, costuming, and performance installations to create a more nuanced experience.
Silvia Inés Gonzalez (she/her), La Sala | $6,000 La Sala invites artists, cultural workers, and civically minded people to discuss liberation, education, and organizing practices toward healing from the perspective of artists' and their artistic process. The series includes a range of 15-20 artists in Chicago who will reflect on their practices within the context of our city's local history and contemporary approach to the arts.
Eric Hotchkiss (he/him), Cultivating Community | $6,000 Cultivating Community aims to activate a vacant lot in Chicago's Englewood neighborhood by turning it into an outdoor kitchen/restaurant. The project encourages open dialogue, cultural exchange, and community engagement through cooking demonstrations and communal meals. Emphasizing sustainable practices, it showcases culturally relevant food from the African diaspora, fostering appreciation, understanding, and a strong sense of belonging within the neighborhood.
Ariella Granados (she/they), Chroma Key After Me | $5,250 Chroma Key After Me is a body of work that is imagining a disabled utopia. Through the creation of soundscapes, sculpture, and video Granados will explore themes of identity centered around family history, socioeconomic status, and disability in relation to utopia. In this project, Granados will create miniature ceramic dioramas that reference places of childhood reconstructed from memory.
Cathy Hsiao and Nestor Siré (she/her), (he/him), Made in Taiwan | $5,250 Made in Taiwan is a new series and body of work at the intersection of new media technologies, craft, and industry. Starting from the perspectives of Taiwan and Cuba as particularly contested sites of technological production and access, the artists document, archive, invite, and imagine alternative, democratic models of technology as a public domain.
Hai-Wen Lin and Vince Phan (they/them), (he/him/his), Send Them Their Flowers | $6,000 Send Them Their Flowers is a gathering that celebrates queer diasporas and lives within the great expanse of the sky. Existing at the intersection of public art, sculpture, and fashion installation, a small collection of kites will be designed using clothing patterns made to fit trans and nonbinary Chicagoans as a means of liberating the body.
Marimacha Monarca Press, Piñata Pollination | $5,250 Piñata Pollination is a popup art-making series centering queerness and migration, grief and relief, death, and rebirth, engaging the outdoors as a community art studio. They will offer seed-papermaking, piñata-making, and printmaking workshops to connect their collective histories to the environment.
Cecil McDonald, Jr. (he/him), Joy Ride: An Odyssey in Black | $5,250 Joy Ride: An Odyssey in Black is an activation that will involve designing a rickshaw and riding it through Chicago's Bronzeville community as it makes its way to significant spaces of nightlife and religious and creative culture in the neighborhood.
Nathan Miller (he/him), Macro, Micro: Altgeld Gardens | $6,000 Macro, Micro: Altgeld Gardens documents the landscape and community of the far South Side Chicago public housing project of Altgeld Gardens. Using aerial drone photography and large format portraiture, Miller's work will reveal the scale and contributors of air pollution contrasted with the stories and likenesses of the people most directly affected by it.
Bun Stout (they/them), Ten Love Poems | $6,000 Ten Love Poems is a mixed-reality fashion collection presented as a multimedia runway involving drag performance, poetry, and live augmented reality. The collection of multi-person garments explores chosen family relationships, inspired by Chicago's radical trans art scene, and its complex web of romantic, friendly, sexual, and kin-like connections within a community where self-creation is a survival art practice and relationship norms are intentionally subverted or experimented with.
Research & Development Grants
Euree Kim (they/them), Memoryscape Series | $1,500 Memoryscapes Series is a transnational, multimedia/disciplinary project about militarism, disability experience, and remembrance. Originating from "Hileah," which means "beautiful prairie" in the Muskogee language, it meditates the simultaneous process of translation, reproduction, replication, and disruption of war memories and disability representation.
Yiwei Wang (he/they), Reflections of a Fleeting Utopia | $1,500 Reflections of a Fleeting Utopia is a multi-faceted exploration of the complexities and contradictions inherent in clubbing culture. This undertaking seeks to bridge the gap between visual arts and experiential performance, creating a dialogue about the dual nature of nightlife as both a refuge from, and a cage within, societal norms. The project will use a variety of materials—synthetic fabrics, bright colors, and ready-made items—to create a series of installations that reflect the visual language of the millennial generation.
---
About 3Arts
Founded in 1912, with a history centered on women artists, 3Arts is a nonprofit organization that supports artists working in the performing, teaching, and visual arts in the Chicago metropolitan area, including women artists, artists of color, and Deaf and disabled artists. By providing unrestricted awards, project funding, residencies, professional development, and promotion, 3Arts helps artists take risks, experiment, and build momentum in their careers over time. Since 2007, 3Arts has supported more than 2,000 artists across all program areas, including 70% women artists, 70% artists of color, and 20% Deaf and disabled artists working in the six-county metropolitan area, and distributed $6.6 million through our grantmaking. For more information, please visit https://3arts.org.
About The Andy Warhol Foundation for the Visual Arts
In accordance with Andy Warhol's will, the mission of The Andy Warhol Foundation for the Visual Arts is the advancement of the visual arts. The Foundation manages an innovative and flexible grants program while also preserving Warhol's legacy through creative and responsible licensing policies and extensive scholarly research for ongoing catalogue raisonné projects. To date, the Foundation has given nearly $280 million in cash grants to over 1,000 arts organizations in 49 states and abroad and has donated 52,786 works of art to 322 institutions worldwide. For more information, please visit https://warholfoundation.org.
About the Regional Regranting Program
The Ignite Fund is funded through the generous support of The Andy Warhol Foundation for the Visual Arts Regional Regranting Program. The Regional Regranting Program was established in 2007 to recognize and support the movement of independently organized, public-facing, artist-centered activity that animates local and regional art scenes but that lies beyond the reach of traditional funding sources. The program is administered by non-profit visual art centers across the United States that work in partnership with the Foundation to fund artists' experimental projects and collaborative undertakings.
The 35 regranting programs provide grants of up to $10,000 for the creation and presentation of new work. Programs are developed and facilitated by organizations in Albuquerque (NM), Atlanta (GA), Baltimore (MD), Boston (MA), Buffalo (NY), Chicago (IL), Cleveland (OH), Denver (CO), Detroit (MI), Houston (TX), Indianapolis (IN), Kansas City (MO), Knoxville (TN), Rapid City (SD), Los Angeles (CA), Miami (FL), Milwaukee (WI), Minneapolis (MN), Mobile (AL), New Orleans (LA), Newark (NJ), O'ahu (HI) Oklahoma City (OK), Omaha (NE), Philadelphia (PA), Tucson (AZ), Portland (ME), Portland (OR), Providence (RI), Raleigh (NC), Saint Louis (MO), San Francisco (CA), San Juan (PR), Seattle (WA), and Washington, DC. For more information, please visit https://warholfoundation.org/grants/regional-regranting.