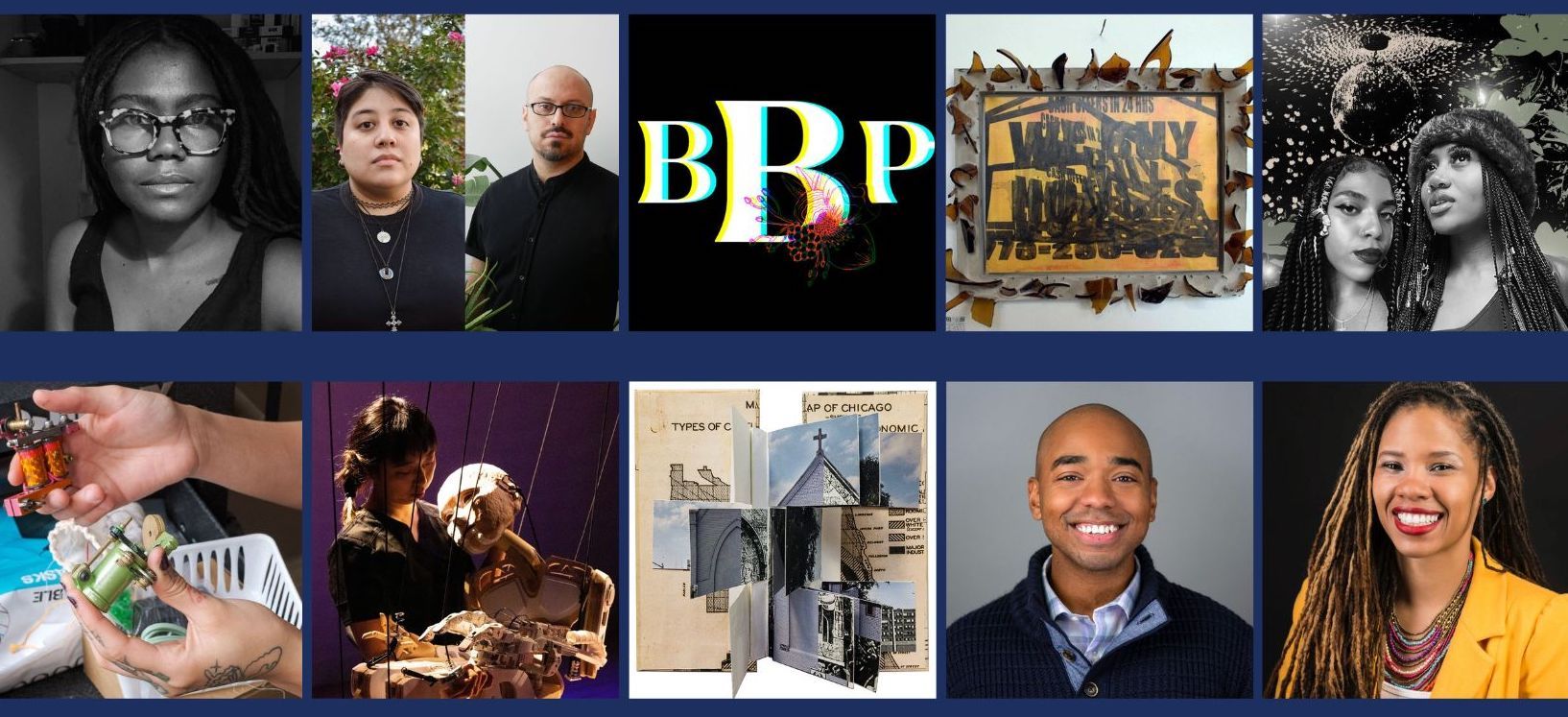 The Ignite Fund, Announces Inaugural Cohort of Artist Grantees
$60,000 of project support for Chicago-area artists in 2022
CHICAGO, IL (September 16, 2022)--- The Ignite Fund, supporting the creation and public presentation of new visual arts-based projects by Chicago-area artists and artist-led collectives, today announced its inaugural cohort of grantees. Seven artists and five artist-led collectives are receiving a combined total of $60,000 toward Project Grants of $3,000 to $6,000 to support the creation and implementation of new, public-facing works; and Research & Development Grants of $1,500 that support the early stages of new projects in development.
Open to artists in Chicago's six-county metropolitan area, Ignite Fund applications were reviewed by a national jury panel. The final selections align with the Ignite Fund's goal of prioritizing projects that center the visual arts, promote collaboration, raise awareness around social justice issues, engage local communities, and incorporate accessibility services in public presentations.
The Ignite Fund is administered by Chicago-based nonprofit organization 3Arts as part of The Andy Warhol Foundation for the Visual Arts Foundation's Regional Regranting Program.
The 2022 Ignite Fund grantees and projects are:
Project Grants
Anwulika Anigbo
The Love Ethic: a visual arts project that will generate collaboratively made, screen-printed materials and a digital website to spread the desire for public policies and practices (personal and institutional) that are grounded in love.
$6,000
Jose Luis Benavides + Amanda Cervantes
Amigas Latinas, Forever: an exhibition combining archival material and new artistic responses made in collaboration with the archive of Amigas Latinas, a supportive education and advocacy organization for Latina lesbians that was active from 1995 to 2015.
$6,000
The Black Bloom Project
BLACK, PURPLE, BLOOM: a mobile installation of fiber-based blossoms, collectively created by community members through a series of artist-led workshops, to advocate for healing, wellness, and social justice for Black women.
$6,000
Carlos Flores
Contra Corriente 2023: a public festival and exhibition that highlights the work of artists, activists, and organizations working to advance racial and environmental justice on the Southwest Side of Chicago.
$6,000
THE GOSPEL TRUTH
Sonic Architectures of Chicago House and Go-Go Music: an experimental documentary and series of public activations that will illustrate the intergenerational modes of Black communion cultivated around House and Go-Go music.
$6,000
The GREYSTONE Collective
The Indelible Mark-Making Project: honoring and preserving the work of Black Tattoo artists through a series of public talks and workshops that seek to elevate this art form beyond western conventions, promote healthy techniques, and empower practitioners to identify and cultivate their work as artists.
$6,000
Jaerin Son
Dogs or Cats; Augmented Body: An interdisciplinary, experimental puppetry performance that explores the distorted desire for human perfection through the visual aesthetics of theater and shared experiences of immigration and otherness.
$6,000
Haerim Lee and Justin Cooper
Story of Polyvocality: an interdisciplinary exhibition and series of community conversations that excavate site-specific memories of the anti-racist mural All of Mankind, now whitewashed from its Cabrini-Green church façade, to explore the history of mural making and coinciding narratives from the artists' collective experiences.
$3,000
Khameron Townsend-Riley
Coronary Artery: an experimental documentary short film about violence on Chicago's Red Line train, combining firsthand testimonials of real life commuters and a fictionalized story, that aims to expose how this neglected intersection of public health and public services is destroying the lives of Black families.
$6,000
Kristen Williams
Unsung Heroes of 79th St.: a series of painted portraits of residents, business owners, and regular folk that will document their stories as positive influences and "good Samaritans" within their Chatham neighborhood.
$6,000
Research & Development Grants
ebere agwuncha Creating Care-Filled Igbo Architectures II: an expanded iteration of a series that celebrates the intersections of architecture, design, craft, and art in the contemporary Igbo sphere.

$1,500
Isra Rene
Forget Me Not: Sites of Black Hereafter: an archiving exploration in collaboration with local artists on Chicago's South and West Sides to construct sites of "Black Hereafter" as public memorials for Black grief using memory vessels, memory quilts, and multimedia assemblages.
$1,500